The Access Code gate requires a unique code to view your site/live stream. This is a great option for VIP tickets or if you are doing ticketing off-site. Note that Access Code is a premium feature, please fill out this form if you'd like to enable this feature on your site.
To enable the Access Code gate, you must first create a subscription:
Click Tickets & Subs from the admin tab
Create a new ticket or subscription (if desired, the price can be left blank or 0)

Click the Key icon next to the ticket or subscription
Enter the amount of access codes
Click Download (that will download into a CSV file)
To enable the Access Codes gate itself:
Click "Channels" in the admin bar
Select the channel that you'd like to add the gate
While on the selected channel, click "Access" under the channel settings
The site will switch to a preview of the gate
To add an Access Code: click on Ticket or Subscription > "Show Advanced Options" > "Access Codes Only (Advanced)" and toggle the option "on"





Click Add Ticket or Subscription, then . Toggle visibility on and press Done.

Example of what the Access Code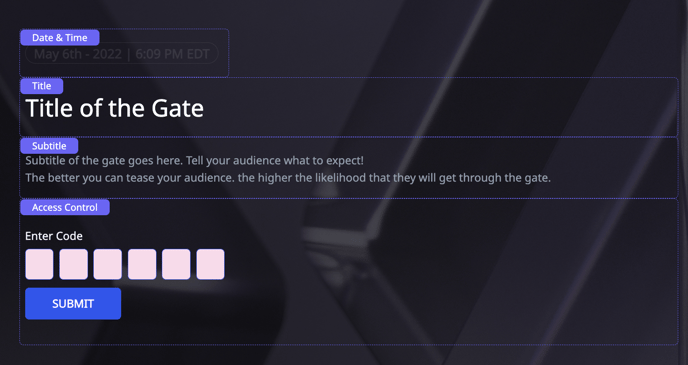 gate looks like in Preview Mode when set up correctly.
Click the yellow "Publish" button at the top right corner of your site to push the changes live. The button changes to green once the changes have been "Published".



Then select Exit Editor