Learn how to use access codes on Maestro.
Access codes are single-use codes that are tied to a viewer's login credentials. Once a viewer creates an account and enters their code, they will have access to that particular virtual experience with their login credentials until the event is removed from the channel.
They will not need to enter the code again. However, once an access code is used, it cannot be used again with another account.
Viewers will navigate to the Page or Channel of the virtual experience. At the gate, they will click "Have an access code? Enter Code."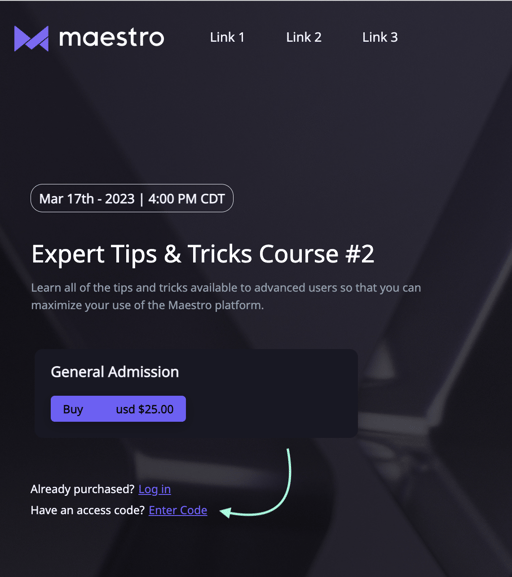 The gate will change and allow the viewer to enter their access code.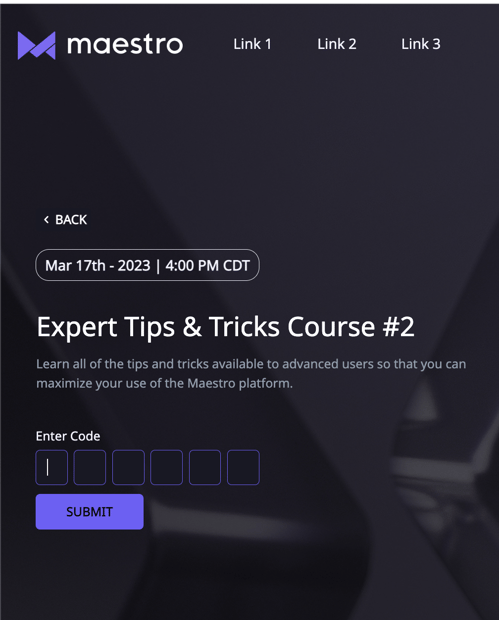 If entered correctly, the user will pass through the gate to the content.
Here's how this could work in a real-life scenario:
Bob is given an access code for an upcoming event
Bob goes to the site and creates an account with bob@email.com a week before the event
Bob enters his access code and gains access to the channel
On the day of the event, Bob returns to the site and logs in with the same credentials he used when he entered his code
Bob now has access to the stream
If Bob used his code and shared it with a friend, his friend will NOT be able to access the stream. If Bob creates a NEW account and tries to enter his code, he will NOT be able to access the stream.
Access codes are $1.00/code with a minimum of 1,000 codes and are a premium feature. To gain access to access codes, please submit a ticket, and an Account Manager will contact you. We recommend downloading additional codes in case users have issues or lose their code(s).
Have any more questions? Join our Discord server for more helpful tips and tricks.