Learn how to use the raffle overlay on Maestro.
A raffle overlay is similar to a virtual t-shirt cannon within your stream. Using raffles encourages users to stay active and logged in while you're live for a chance to win a reward. Raffles are a great gamification tool for downtime as well as any other part of the event.
Winners are selected at random from the list of users who submitted an entry.
Follow the directions below to learn how to use a raffle overlay:
Select the Live Channel where you'd like to use the Raffle Overlay in the Admin Navigation bar.
Click to preview the Overlay
Use to customize & broadcast
Enter the reward - the viewer will see what you write.
Toggle on "All channels" if you want this overlay to appear on every life channel.
Click the teal broadcast button to push your raffle live.
Once the raffle overlay has been broadcasted, a series of three overlays will automatically trigger:
The first overlay lets users know a raffle is about to begin (I.e.,"A giveaway will begin soon. Watch here to participate!" with a 60s countdown)
The second overlay prompts users to submit their entry by clicking the button.
The third overlay automatically chooses and broadcasts the name of the winner in the stream.
Once a winner is selected, they can be found in the Analytics dashboard within the "Engagement" tab:
1. Click "Analytics" from the Admin Bar, and then choose Engagements.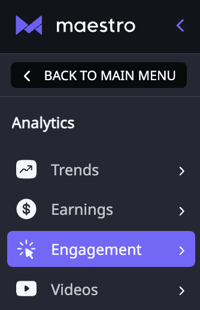 Click "Overlays"
Click the row with your raffle to expand it
View the winner's reward, username, email, and user ID
Follow the links below to view examples: