Gates are a customizable entry-point that require users to take a certain action before accessing your Channel.
There are four main types of gate: Login, Password, Entitlement, and Access Code.
Each can be customized with a Title, Subtitle, as well as Mobile and Desktop Background Images.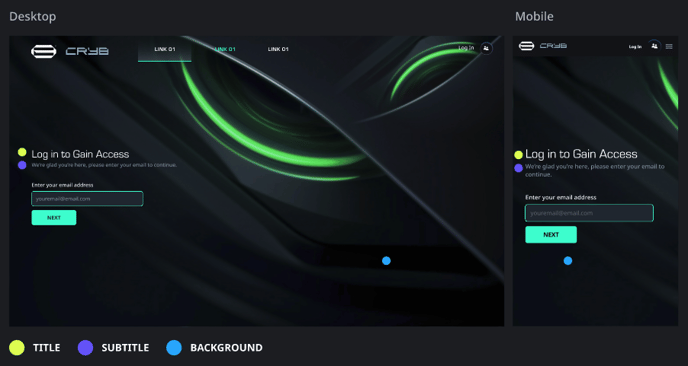 To add a Gate:
Click Channels from the admin bar
Select the Channel you'd like to add the Gate to by clicking the edit icon
With the Channel selected, click Settings (next to Content)
Scroll down to the Gate section
Toggle the Gate on
Click on the Gate options (it will default to Login)
Select the Gate type

Login: Users must log in or create an account to access
Password: Users require a password to access
Entitlement: Users require payment to access
Access Code: Users must enter an access code to access

With the Gate selected, enter your Title (required). You may also add a Subtitle and Background Images.

Desktop Background: 1920x1080
Mobile Background: 1100x1440

Scroll up and hit Save and Publish to finalize!
To turn the gate off, follow the first 4 steps and then toggle the gate OFF, then hit Save and Publish.
Hint: to preview the Gate, simply view the Gated Channel in a logged out state. One easy way to do this is by opening the Channel in a private/incognito browsing window.