Learn how to update channel settings on Maestro.
Each Live Channel and Page has a unique slug, navigation image that will appear in a page block or below your livestream content, and SEO settings. From the admin bar, navigating to "Settings" will open the Settings modal and allow you to customize these options.
Let's run through how to update each of these sections in your channel settings.
URL
The URL is the unique address of a specific web page. For example, if one of your channels is named "Live," you can change the URL to reflect that.
In this example, we used the URL "testing".
The result will look like the following: https://maestro.tv/yoursitename/testing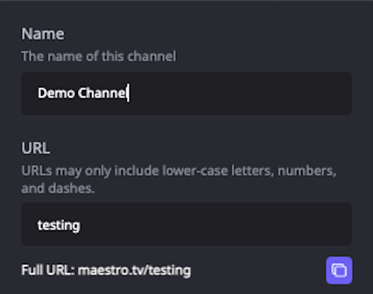 SEO
"SEO" is short for "search engine optimization." Each channel has an individual SEO credentials that affects the online visibility of your Maestro site, and more specifically, the Pages and Live Channels.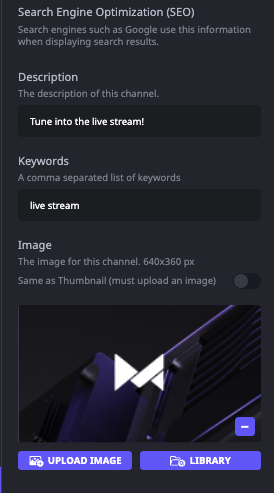 You can add a description, image, and keywords to increase the search visibility of your content.
Channel Navigation Image
The channel navigation image will appear in the channel navigation as an icon rather than just text name of the Page or Live Channel. These are visible on Pages if you have a Channel Navigator Block, or on Live Channels, below the video player. This is what will allow your users to navigate around your site.