Learn how to broadcast a message overlay on Maestro.
Messages are text-based overlays that are designed to capture viewers' attention and prompt action. In fact, they can have a call to action (CTA) added to the end to drive action at that exact moment.
The average engagement rate for message overlays is 15-20% (depending on the CTA).
With that said, here's how you can broadcast message overlays on your stream:
Using the Admin Navigation Bar, choose the Live Channel where you'd like to broadcast your overlay.
Click "Overlays" from the admin bar.
Click "Catalog" at the top of your overlays menu to view what overlays we offer out of the box. Message is the third item.
Click the preview button next to the overlay to see an example of this overlay in your channel (it must be in TV mode to see previews):
Enter a name for your message - this is not seen by the viewer.
Enter your message (Note: You can see a preview of your message if your channel is in TV mode)
Select a theme (Light or Dark)
Enter the duration of time you'd like your message to appear (Note: We recommend 30-45 seconds)
Select a call to action (Check out our examples of messages and CTAs for more insight)
Toggle "All channels" to "On" if you want your raffle overlay to appear over all Live Channels
Click "Save" to add this overlay to your library for easy access during events

If you don't wish to save your overlay, click the broadcast button at the top of the modal to push your overlay live without saving:

Click "Library" and then the broadcast button to push your overlay live.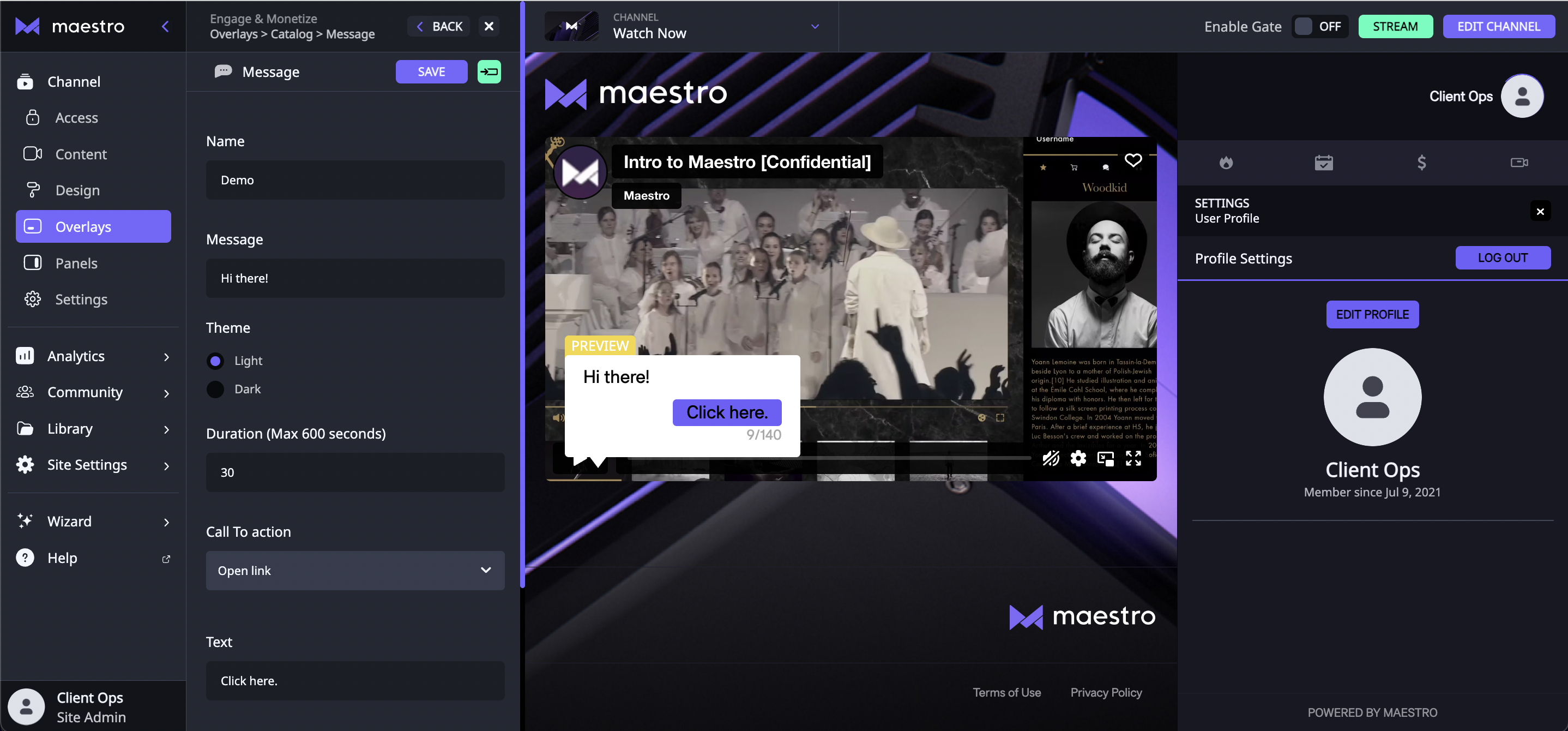 To make changes to your saved messages click the pencil edit button. Also, please note that the stats above your message overlay cannot be seen by viewers.
Have any more questions? Join our Discord server for more helpful tips and tricks.