Learn how to create paywall gates for video monetization with subscriptions and tickets.
Paywalls, which are also called Subscription or Ticket Gates, allow you to sell tickets or subscriptions. Gates are created on a channel-specific basis. That is to say, when a Channel is gated, the viewer needs the associated ticket and/or subscription to view that specific channel.
Here are the steps you can follow to add a ticket or subscription gate to your channel.
Click "Channels" from the Admin Bar
With your channel selected, click the "Access" tab on the right hand side
The site will show a preview of the gate
Click into the area marked "Access Control"

You'll be prompted to choose a gate type. Choose "Ticket or Subscription"
Click "Add Ticket or Subscription"
Select "Ticket" or "Subscription" for the gate type from the dropdown menu
Fill out the requested fields:

Title: Name of the event
Subtitle: Description of event
Date: Date and time of the event

Click "Add Ticket or Subscription"
Select desired ticket or subscription(s) using the "Use" button:


You can also create a new ticket or subscription by clicking "Add Ticket or Subscription"
Note: the Ticket or Subscription name is public-facing, so consider using something like "General Admission" or "Live Stream + VOD Rental" to describe what the viewer is purchasing

You may also add a "Background Image" to your Gate for web and mobile when prompted
Scroll up to the top of the screen, and hit "Publish" to save your work. Ensure that the "Enable Gate" toggle is switched to "On" to activate the gate
The gate will become active once you save and publish. You can remove or change the gate at any time by toggling the gate "Off," editing it, or by selecting different tickets or subscriptions.
Hint: to preview the Gate, simply view the Gated Channel in a logged out state. One easy way to do this is by opening the Channel in a private/incognito browsing window.
Managing Tickets and Subscriptions
You can add multiple tickets or subscriptions to a Gate. This is a great way to create tiered pricing.
Tickets or subscriptions grant access to a Channel for as long as they are actively applied to the Gate. You can also have multiple Channels active with different Tickets and/or Subscriptions associated with each Channel.
You may also change the tickets and/or subscriptions on a Channel at any given time -- by simply toggling the visibility "on" or "off" on a Ticket/Subscription, and thusly preventing new users from purchasing the deactivated Ticket/Subscription.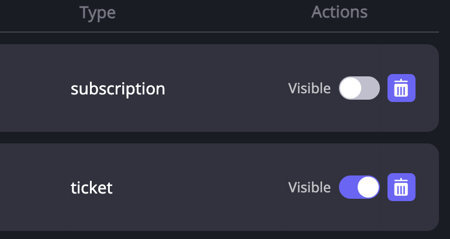 Related Articles: