Learn the basics of setting up Live Channels in Maestro.
Live channels enable you to host multiple streams at one time and create segmented experiences all within one seamless video destination. They are the spot on your site where your audience can access your live content.
On Maestro, live channels can be personalized to match your brand, add engaging panels, or broadcast overlays over your stream.
How to Create a New Live Channel
Creating your first channel is easy. In fact, you can create a live channel in just a couple of minutes
At the top of your Maestro site while logged in as an admin, there is a Channel Navigation drop down bar. Click the dropdown.


Click "Create Channel" at the top of the dropdown - the Channel Settings will open.

Click on the text field at the top left of the screen that says "New Channel" to rename your Channel.

Within the Channels tab, click on "Settings" to set your Channel Slug (e.g., maestro.tv/channel1).

Hit "Save" then "Publish" to push the changes live.
Note: You also now have the ability to search through the Channels you've created.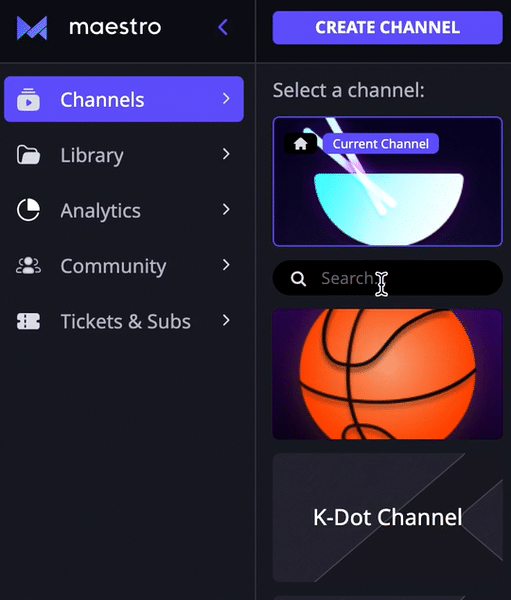 How to Set a Live Channel as the Home Page
Click the Navigation Bar at the top of the page.


Use the three dots on the Channel or Page that you wish to set as the home page to Set as Home.
Home Pages are indicated by this icon:
Adding Video
There are two ways to set up VOD content on your Channel: TV Mode and Grid Mode.
TV Mode: when a user lands on the Channel, the Offline Video will start from the beginning and display controls.
Grid Mode: when a user lands on the Channel, they will see a grid of videos and playlists they can select from. Selecting a video will start the video from the beginning and display controls.
To get started, add an Offline Video to your Channel with the following steps:
Click "Channels" from the Admin navigation bar
Click on the edit icon next to the desired channel and scroll down to the Offline section
Click either "TV" or "Grid Mode"
Click "Add Video" or "Add Playlist" (Note: If you already have a video added, click Change Video. If you already have a playlist selected, click Change Playlist)
Select your video or playlist by clicking from the Library or Add Video/Create Custom Playlist
Once the video is selected, click "Publish" to push the changes live
For additional information on streaming, please refer to our How to Go Live Guide.