Channels enable you to host multiple streams concurrently and create segmented experiences all within one seamless video destination.
Setting up Your Channel(s)
How to Create a Channel
To create a Channel, click Channels from the admin bar, then Create a Channel at the top of the Channel Settings bar. Select your Channel type (more on Channel types below).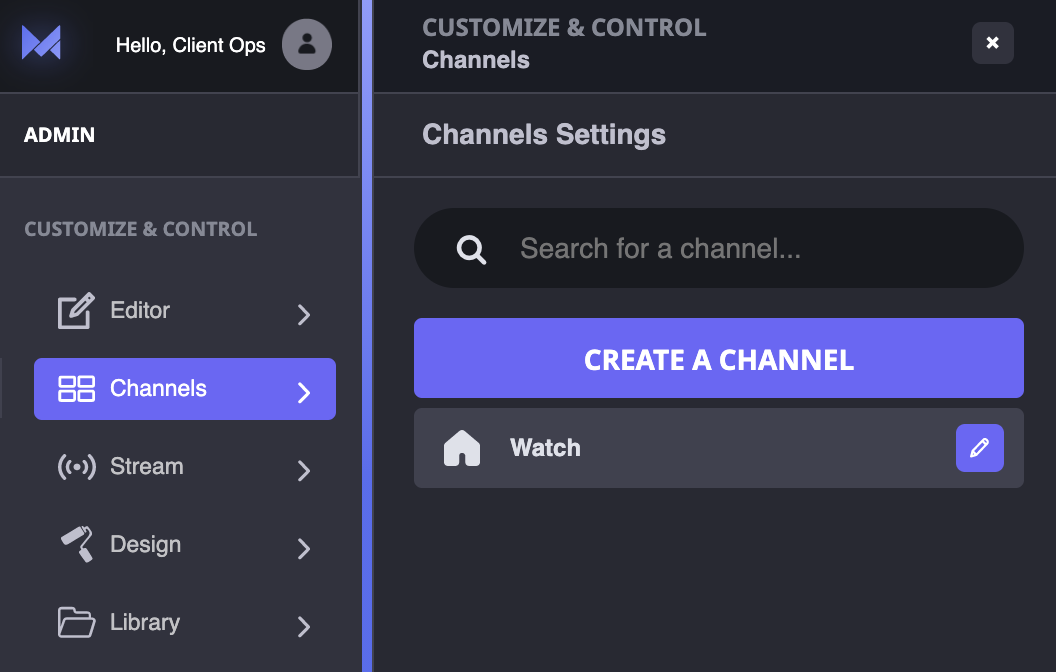 Click on the area at the top left of the screen that says "New Page" to re-name your Channel. Within Channels, click on Settings to set your Channel Slug (e.g. live.you.com/channel1). Hit Save and Publish to push changes live.
Channel Types
There are two main types of pages, Channels and Landing Pages:
Channel: the Channel is the primary Live format, and may also utilize VOD content. Channels can be set to either TV or Grid Mode. When a stream goes live via Scheduled Content or Stream (direct to Maestro), the live content will takeover the video player, and then resume its Offline Video state when the stream is over.


Landing Page: this is an offline format for VOD content only. The Landing Page lets you add modular rows of content including: Video, Playlist, Spotlight images, and Channels. The landing page will never have live content, meaning you cannot schedule a video or stream to it. Overlays will NOT appear on landing pages, however you can add a Sidebar to your landing page for information and interactivity.
To set your Home Channel:
Click on Channels from your admin bar
Click on the edit icon in the channel you'd like to make the Home channel
Click Set Home Page in the top right of the window
Click Save and Publish to push the changes live.
Your Home channel will be indicated by the Home icon
Adding Video
There are two ways to set up VOD content on your Channel: TV Mode and Grid Mode.
TV Mode: when a user lands on the Channel, the Offline Video will start from the beginning and display controls.
Grid Mode: when a user lands on the Channel, they will see a grid of videos and playlists they can select from. Selecting a video will start the video from the beginning and display controls.

To get started, add an Offline Video to your Channel with the following steps:
Click Channels from the Admin tab
Click on the edit icon next to the desired Channel and scroll down to the Offline section (see above)
Click either TV or Grid Mode
Click Add Video or Add Playlist

If you already have a video added click Change Video; if you already have a playlist selected click Change Playlist

Select your video or playlist using the "+" from the Library or Add Video/Create Custom Playlist
Once the video is selected, click Save and Publish to push changes live
For information on streaming, please refer to our How to Go Live Guide.